While every gesture counts to build a more responsible world, Transilien SNCF, RATP and Île-de-France Mobilités are taking a new step with the gradual discontinuation of cardboard T+ booklets.
We explain everything...
An end to cardboard tickets in two stages at Transilien SNCF stations.
As of October 2022, the sale of magnetic T+ tickets will stop at automatic ticket machines in about 50 stations.
By 2023, magnetic T+ tickets will no longer be sold in all stations.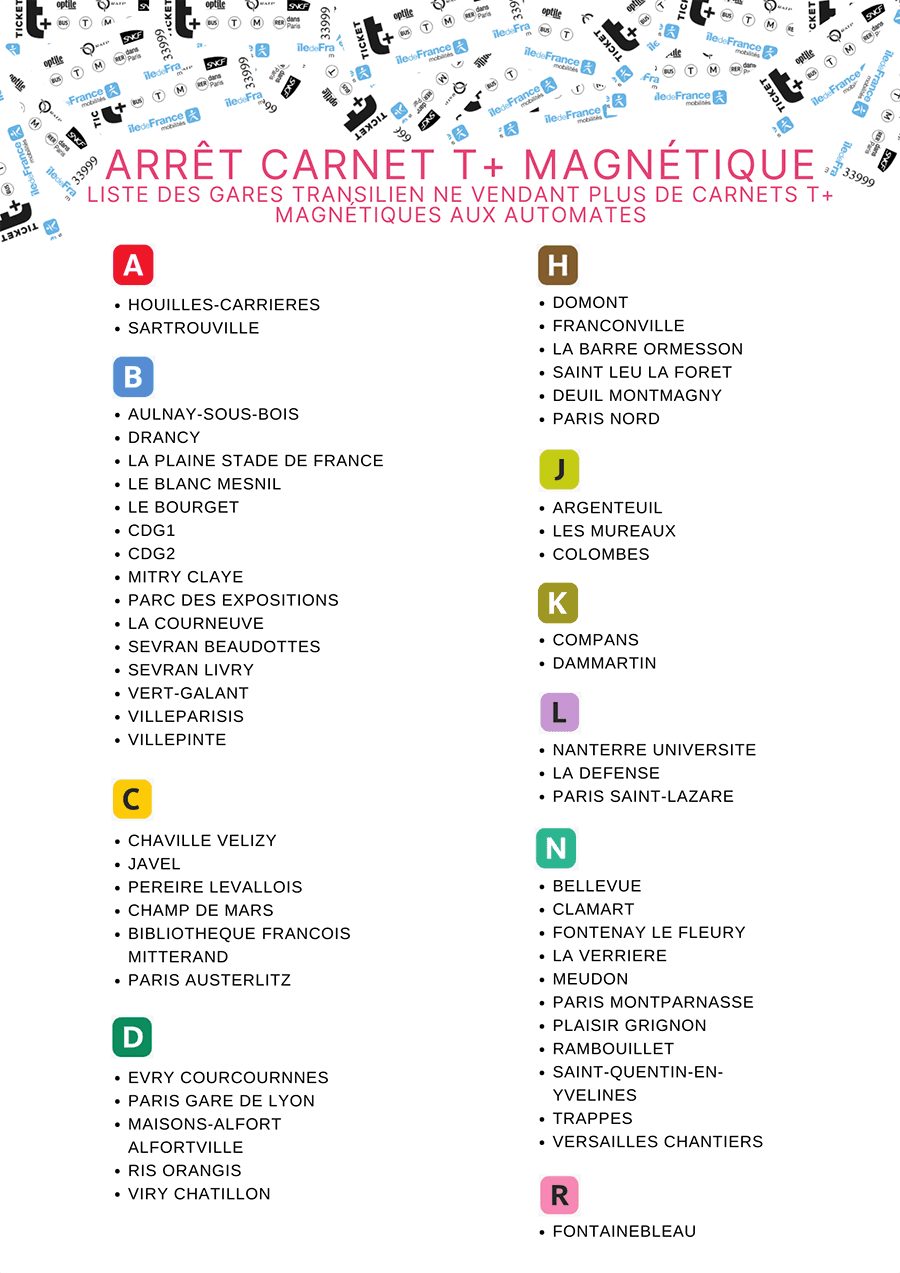 List of the 50 Transilien stations which are stopping the sale of magnetic t+ ticket books at vending machines from October 13, 2022 :
On the RER A : 
Cergy-le-Haut
Houilles-Carrières
Sartrouville
On the RER B : 
Aulnay-sous-Bois
Drancy
La Plaine Stade de France
Le Blanc Mesnil
Le Bourget
CDG 1
CDG 2
Mitry Claye
Par des Expositions
La Courneuve
Sevran Beaudottes
Sevran Livry
Vert-Galant
Villeparisis
Villepinte
On the RER C : 
Chaville Velizy
Javel
Pereire Levallois
Champs de Mars
Bibliothèque François Mitterand
Paris Austerlitz
On the RER D :
Evry-Courcouronnes
Paris Gare de Lyon
Maisons-Alfort Alfortville
On the RER E : 
Chenay Gagny
Noisy-le-Sec
Val de Fontenay
On the Ligne H : 
Domont
Franconville
La Barre Ormesson
Saint Leu La Forêt
Deuil Montmagny
Paris Nord
On the Ligne J :
Argenteuil
Les Mureaux 
Colombes
On the Ligne K :
On the Ligne L :
Conflans Saint Honorine
Nanterre Université
Versailles Rive Droite
La Défense
Paris Saint-Lazare
On the Ligne P :
La Ferte sous Jouarre
Nangis
Coulommiers
On the Ligne R :
What solutions to replace the t+ cardboard ticket book ?
It all depends on your profile !
Do you regularly use public transport with t+ tickets ?
Choose Navigo Liberté + for your journeys by metro, RER in Paris, bus or tram! After subscription thanks to your RIB, each trip you make is counted and you are charged the following month for the total amount of your trips. If you don't travel, you pay nothing !
Are you a visitor or use t+ tickets occasionally ?
Opt for Navigo Easy. This non-personal pass, rechargeable from vending machines or via your smartphone, allows you to store, among other things, single t+ tickets and dematerialized t+ notebooks (up to 3 notebooks)!
And if you don't want a pass, use your smartphone to buy your tickets and validate them by swiping it directly at the validation terminals.