The Transilien.com website continues to innovate and allows you to know how many people are on board your trains.
On-board traffic information
As you already know, transilien.com informs you about the number of passengers on board your trains in the results of your itinerary searches and your personalized timetables by means of the small pictograms indicating the degree of affluence.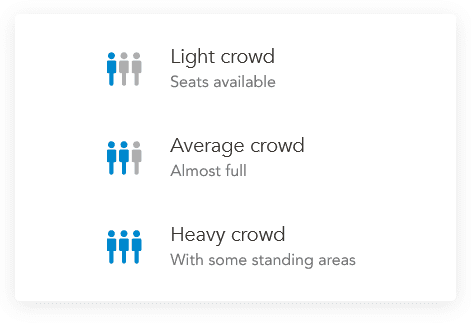 Since last September, passengers whose trains are equipped with real-time counting systems* have been able to consult the number of passengers on board in real time in the "Leave Now" section of transilien.com, a particularly innovative and useful piece of information!
* To date, real-time information is available on the H, K and L lines and in part on the J, R, P, E, N and D lines.
The terms "Current" and "Usual" are added to the pictograms of the traffic you already know to indicate whether the information displayed corresponds to the real time or to the usual traffic on your train.
Follow one of the links below to find the information on the traffic on your trains:
The affluence has been set up because we are convinced of its usefulness but also because many of you, users, have asked us for it. Continue to give your opinion and check the new features of the site on this page.